From Tears to Triumph: Marianne Williamson on the Beautiful Writers Podcast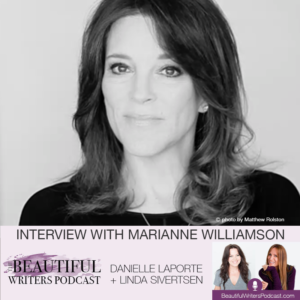 Just up: Marianne Williamson for this month's Beautiful Writers Podcast. Danielle LaPorte and I were blessed to get the chance to dish on some really juicy insider publishing stories with this spiritual teacher and author of of 11 books (4 #1 NYT bestsellers). I know you're going to relish being a fly on the wall for this one. We also talk with Marianne about her gripping new book, Tears to Triumph: The spiritual Journey from Suffering to Enlightenment. (Rumor has it that being an artist can sometimes make you feel vulnerable and teary; there's powerful intel here about honoring your deep sadness AND navigating this world with more joy and miracles versus suffering.) As a Book Mama, I also loved hearing her talk about being "pregnant" with a book.
I gotta say, it's the most incredible experience for me to let my curiosity run wild during these interviews. How often in real life do we get the chance to ask our favorite people so much about the "how" and "why" of their journeys?
Marianne doesn't need much by way of a formal intro, but then again, reviewing her resume was so mind blowing, I can't resist giving you a few more pearls before you listen in:
… Marianne Williamson is the founder of Project Angel Food (a meals-on-wheels program serving homebound people with AIDS in the L.A. area); she's a co-founder of The Peace Alliance (supporting legislation to establish a United States Department of Peace), and she works tirelessly to end poverty (worldwide). And you thought you had a lot to do! Ha. In 2013 she ran for Congress and brought the revolutionary concepts of love and forgiveness into the political arena. Though not everyone was ready for such a profound message, I believe it's needed more NOW than ever.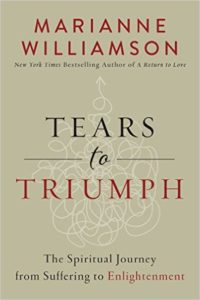 Newsweek magazine has called Marianne one of the 50 most influential baby boomers, and with this new book, the brilliance continues…
Also, Danielle has a big announcement at the end of the show—about how the Beautiful Writers Podcast is transforming. I hope you'll listen all the way until the end.
And, if you haven't yet heard us dish with our previous guests… Elizabeth Gilbert, Seth Godin, Brené Brown, Steven Pressfield, Mary Karr, Leeza Gibbons, Gretchen Rubin, Martha Beck, Dani Shapiro, Robert McKee, Arianna Huffington, and more… be sure and click around after Marianne's episode. I learn so much from these interviews myself, and sometimes revisit them when I need a dose of writerly inspiration. With 125,000 listens to date, I'm guessing I'm not the only who does that:).
In joy. And, enjoy!
Linda
xx
"If you want to go quickly, go alone. If you want to go far, go together." African Proverb.